---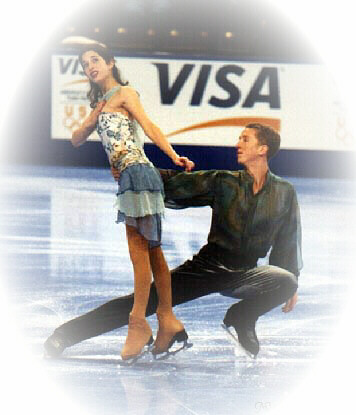 I've been an avid skating fan for over half my life, and still, I can count on my fingers the number of skaters who've won my heart instantly. Jamie Silverstein and Justin Pekarek are two of these rare athletes. This young dance team from the U.S. wowed me from the first time I ever saw them skate, on television at the Junior World Championships in 1999.
The effortlessness of their complicated steps, their softness, their sparkle, the maturity of their presentation that belies their years... Jamie and Justin definitely have It. Already, in their first year of senior-level competition, many are heralding this talented duo as the ice dance team of the future. Whether or not this prophecy will come to pass is something we must wait to see... but I know that whatever happens, I'll enjoy watching their growth on ice.
---
Home
This page is where you'll find the latest Jamie and Justin news, and info about any of their upcoming competitions, TV appearances, or other events.
Bios
Want to know more about Jamie and Justin? Read their bios here.
Competitive Record
Results from over their years as a team.
Photo Gallery
Tons of pix, old and new!
Related Links
Jamie and Justin online, and other cool skating links.
Mailing List
Find out how to join Dynamic Duo, the mailing list for Silverstein and Pekarek fans.
Contact
About the webmistress, contact info, and other site information.
---
The Latest News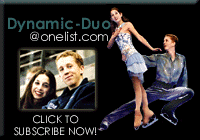 May 22, 2000 - The international assignments for next season have been announced. J&J will compete at two Grand Prix events - Skate America and Trophee Lalique.
May 12, 2000 - The USFSA announced their "Team Envelopes" today, the rankings that help determine how much funding, how many international assignments, etc., that skaters will receive in the upcoming season. Jamie and Justin were placed in the highest envelope, Team A. For more information, see USFSA Team Envelopes.
March 31, 2000 - J&J place 12th at Worlds. Rock on! Here's to next season!
February 26, 2000 - Congratulations to Jamie and Justin on winning their first major senior international medal, a bronze at the Four Continents Cup!
February 10, 2000 - Jamie and Justin win the silver medal in their very first senior national championships! CONGRATULATIONS!
December 23, 1999 - Dynamic Duo, a mailing list for Jamie and Justin fans, is born. Click on the fan button to join!
December 23, 1999 - Jamie celebrates her 16th birthday. Happy Sweet 16, Jamie!
December 3, 1999 - The Lifetime Network in the U.S. profiles Jamie and Justin during their coverage of Nation's Cup. Commentator Susie Wynne raves over their skating skills and complex choreography; four-time world bronze medallist and NC champion Victor Kraatz comments on their evident talent and calls them a team to watch.
November 11-14, 1999 - Jamie and Justin compete in their second Grand Prix event - Nation's Cup in Gelsenkirchen, Germany - and place a strong fourth.
October 29-31, 1999 - Skate America is Jamie and Justin's senior Grand Prix debut; they finish fifth and gain valuable exposure.
September 1-4, 1999 - New programs are unveiled at the pair's first competition as Seniors, the Nebelhorn Trophy in Oberstdorf, Germany. Defeating many more seasoned competitors, Jamie and Justin bring home the gold medal.
---
HOME | Bios | Competitive Record | Photo Gallery | Links | Mailing List | Contact